Best Cam Scan App For Android Mobile
Hello all friends. What we are going to see today is that we all know the application called CamScaner. I describe it to those who do not know. With the application called CamScaner, we can scan documents like Otter ID and Aadhar card on our mobile phone with the camera on our computer. This uses the CamScaner application. This application is called Cam Scan application. Now in this post we are going to look at another Cams Scan application instead of this Cams Scan application. The application name is Adobe Scan. We can also scan documents with this Adobe Scan. In this Adobe Scan application you can scan any documents as clearly as you would on a computer. You can also change the color of the scanned documents. Here are some of the effects: Documents can also be scanned in black and white using this Cam Scan application.
Let us now look at the important features that are present in this Cam Scan application i.e. in this Adobe Scan application.
You can also share those documents to your friends or companies through WhatsApp, Facebook and email on many social media like this. That too is facilitated in this Adobe Scan application. The highlights of this application are that you can simply take a photo of a document with your mobile camera and modify it to scan it very accurately. You can not only modify it but also print it out and use it. You can scan very clearly with this application. And this Cam Scan application has many features. You know if you use one together. The CamScaner application has been banned from the Play Store. So use this Adobe Scan (Adobe Scan) application. The link to download this Adobe Scan application is given below this post. Click on that link and download. I hope this application will be very useful for you. If so useful please share this post with your friends. And may meet with a good record.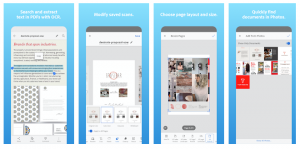 Thanks!